Pastor's Corner
February 2023
"What True Love Is"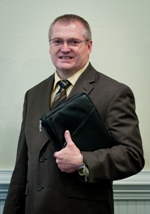 (John 3:16) "For God so loved the world, that he gave his only begotten Son, that whosoever believeth in him should not perish, but have everlasting life."
As we enter the month of February, it is brought to our minds that on the 14th of this month we recognize those we say we love. But we must ask ourselves the question; Do we really know what true love is? As we look at the word of God and this particular text, we realize that "God so Loved the world," and part of the world is you and me. God so loved you and me that he would send his son to die for our sins. That is the greatest example of what true love is. Then we have Jesus, the son, sending us the comforter, which is the spirit of God, to be our consoler. Again, is this not the very essence of true love. True love is truly the gift of God, that we as believers, can receive in ourselves and share with those who need love too.
I hope everyone has a Happy Valentine's Day and a desire to express the love our Savior has for us to others.
Yours in Christ,
Pastor Jeff
---
Our Pastor, Jeff Massey
Reverend Jeff Massey was licensed to preach at Cole's Cove Independent Missionary Baptist Church in Weaverville, NC on July 1, 2001. He preached for local pastors and helped in revivals. He also interim pastored for churches without pastors in Madison and Buncombe counties. He also conducted outside services at Lake Louise every Saturday evening for two summers. Rev Massey participated in radio broadcasts at Marshall's WHBK radio with other preachers from Cole's Cove Baptist Church.
On March 5, 2006, Reverend Massey was called to Stoney Fork Independent Missionary Baptist Church in Candler, NC, where he preached for two months. He was ordained on May 7, 2006 at Cole's Cove Independent Missionary Baptist Church and became the pastor of Stoney Fork Independent Missionary Baptist Church, where he is at the present time.