Pastor's Corner
September 2021
"A Solid Foundation"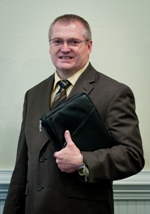 1 Corinthians 3:11-13
11)"For other foundation can no man lay than that is laid, which is Jesus Christ. 12)Now if any man build upon this foundation gold, silver, precious stone, wood, hay stubble; 13)Every man's work shall be made manifest: for the day shall declare it, because it shall be revealed by fire; and the fire shall try every man's work of what sort it is."
Gold, silver, precious stones, wood, and hay stubble are the materials with which Christians build. The first three are good because they stand the test of fire. Such service will endure through all eternity. The latter three are bad because the fire will destroy them. These speak of unworthy service, performed perhaps with a selfish motive, or to bring attention to ourselves. Thus a Christian may suffer loss (vs.15) instead of receiving a reward (vs. 14). His salvation, of course, is not affected, for that rests upon the finished work of Christ on the cross of Calvary. Some however, will be saved "so as by fire" (vs.15). As we build upon the foundation, let us remember it is not the size of the work that matters, but the sort of work one has done. 
Paul tells us in Colossians 3:23-24 "And whatsoever ye do, do it heartily, as unto the Lord and not unto men; (vs. 23) Knowing that of the Lord ye shall receive the reward of the inheritance: for ye serve the Lord Christ" (vs. 24).
Yours in Christ,
Pastor Jeff
---
Our Pastor, Jeff Massey
Reverend Jeff Massey was licensed to preach at Cole's Cove Independent Missionary Baptist Church in Weaverville, NC on July 1, 2001. He preached for local pastors and helped in revivals. He also interim pastored for churches without pastors in Madison and Buncombe counties. He also conducted outside services at Lake Louise every Saturday evening for two summers. Rev Massey participated in radio broadcasts at Marshall's WHBK radio with other preachers from Cole's Cove Baptist Church.
On March 5, 2006, Reverend Massey was called to Stoney Fork Independent Missionary Baptist Church in Candler, NC, where he preached for two months. He was ordained on May 7, 2006 at Cole's Cove Independent Missionary Baptist Church and became the pastor of Stoney Fork Independent Missionary Baptist Church, where he is at the present time.