Pastor's Corner
September 2023
Baptism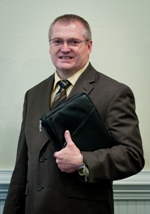 Romans 6:3 "Know ye not, that so many of us as were baptized into Jesus Christ were baptized into his death?"
Since there is no English word for the Greek baptize, the translators brought it into English. Because the Israelites shared with Moses the experience of trusting through terror, it is said that they were "baptized unto Moses." They were drawn into oneness with him that night as they never would have been had they not gone through the same experience together (Exodus 14- the Red Sea). Since God reckons that every Christian has died with Christ on the cross, He says that every Christian has been "baptized into Christ." We are one with Him, having received His very life. God says that we are members of His body (1 Corinthians 12:12-13). The Christian ceremony of baptism is an outward sign that a Christian believes this in his heart. The question is, are you a believer?
Yours in Christ,
Pastor Jeff
---
Our Pastor, Jeff Massey
Reverend Jeff Massey was licensed to preach at Cole's Cove Independent Missionary Baptist Church in Weaverville, NC on July 1, 2001. He preached for local pastors and helped in revivals. He also interim pastored for churches without pastors in Madison and Buncombe counties. He also conducted outside services at Lake Louise every Saturday evening for two summers. Rev Massey participated in radio broadcasts at Marshall's WHBK radio with other preachers from Cole's Cove Baptist Church.
On March 5, 2006, Reverend Massey was called to Stoney Fork Independent Missionary Baptist Church in Candler, NC, where he preached for two months. He was ordained on May 7, 2006 at Cole's Cove Independent Missionary Baptist Church and became the pastor of Stoney Fork Independent Missionary Baptist Church, where he is at the present time.