Pastor's Corner
June 2023
"Separation"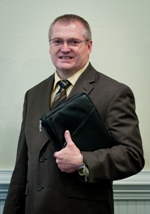 (2 Corinthians 6:17-18) 17) Wherefore come out from among them, and be ye separate, saith the Lord, and touch not the unclean thing; and I will receive you. 18) And will be a Father unto you, and ye shall be my sons and daughters, saith the Lord Almighty.
The context of these verses proves that this refers to separation from all that is unclean, that is, unholy things and evil people. That is one side of separation, but the Christian is also to be separated unto God. A person living in the world cannot live entirely apart from the evil in the world, but he can refuse to have any part in that evil. It was the world that crucified the Christian's Savior. Not until the Christian lives the truly separated life can he have full fellowship with God, his heavenly Father, and not until then will his service bear fruit for the Lord. (2Tim. 2:21) The Lord is there for us, and he will help us, if we will separate ourselves unto him..
I hope everyone has a safe summer.
Yours in Christ,
Pastor Jeff
---
Our Pastor, Jeff Massey
Reverend Jeff Massey was licensed to preach at Cole's Cove Independent Missionary Baptist Church in Weaverville, NC on July 1, 2001. He preached for local pastors and helped in revivals. He also interim pastored for churches without pastors in Madison and Buncombe counties. He also conducted outside services at Lake Louise every Saturday evening for two summers. Rev Massey participated in radio broadcasts at Marshall's WHBK radio with other preachers from Cole's Cove Baptist Church.
On March 5, 2006, Reverend Massey was called to Stoney Fork Independent Missionary Baptist Church in Candler, NC, where he preached for two months. He was ordained on May 7, 2006 at Cole's Cove Independent Missionary Baptist Church and became the pastor of Stoney Fork Independent Missionary Baptist Church, where he is at the present time.