Pastor's Corner
July 2018
"Liberty and Freedom with Christ"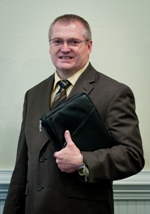 2 Corinthians 2:14
"Now thanks be to God, which always causeth us to triumph in Christ, and making manifest the savour of his knowledge by us in every place."
As we come into the month of July, we come to a time of celebration. We come together to celebrate with flags and fireworks and great excitement the liberty that we have as a nation.
In our text we can see a vision in this verse. The writer sees in his mind's eye a Roman conqueror leading a homeward march of triumph after the battle. Paul declares himself to be one of Christ's captives, and following his great captain, is led on from place to place and from battle to battle in the triumphant march. The victory was being celebrated in different places. So, in following Christ the Christian enjoys a victory already won by the Saviour!
I hope everyone has a safe and enjoyable Fourth of July. God Bless!
Yours in Christ,
Pastor Jeff
---
Our Pastor, Jeff Massey
Reverend Jeff Massey was licensed to preach at Cole's Cove Independent Missionary Baptist Church in Weaverville, NC on July 1, 2001. He preached for local pastors and helped in revivals. He also interim pastored for churches without pastors in Madison and Buncombe counties. He also conducted outside services at Lake Louise every Saturday evening for two summers. Rev Massey participated in radio broadcasts at Marshall's WHBK radio with other preachers from Cole's Cove Baptist Church.
On March 5, 2006, Reverend Massey was called to Stoney Fork Independent Missionary Baptist Church in Candler, NC, where he preached for two months. He was ordained on May 7, 2006 at Cole's Cove Independent Missionary Baptist Church and became the pastor of Stoney Fork Independent Missionary Baptist Church, where he is at the present time.