Pastor's Corner
August 2022
"An Everlasting Kingdom"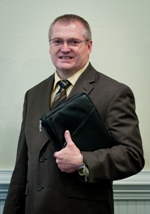 Amos 9:11 1)
"In that day will I raise up the tabernacle of David that is fallen, and close up the breaches thereof; and I will raise up his ruins, and I will build it as in the days of old."
Gods covenant with David (2 Sam. 7:11-16) contained a promise that his descendants would have an everlasting Kingdom. That covenant and this prophecy find an adequate fulfillment in the Lord Jesus Christ, who as David's greater Son, will be at the head of this everlasting Kingdom. The apostle James, the half-brother of Jesus, applied this passage to the present dispensation when believing Jews and Gentiles alike are sharers of the glories of the Kingdom of God's Son- (Acts 15:16-17) After this I will return, and will build again the tabernacle of David, which is fallen down; and I will build again the ruins thereof, and I will set it up: That the residue of men might seek after the Lord, and all the Gentiles, upon whom my name is called, saith the Lord, who doeth all these things.
We have a promise of a Kingdom to come. There can be no Kingdom without a King; there can be no everlasting Kingdom without an everlasting King! Jesus is soon coming, are you ready?
Yours in Christ,
Pastor Jeff
---
Our Pastor, Jeff Massey
Reverend Jeff Massey was licensed to preach at Cole's Cove Independent Missionary Baptist Church in Weaverville, NC on July 1, 2001. He preached for local pastors and helped in revivals. He also interim pastored for churches without pastors in Madison and Buncombe counties. He also conducted outside services at Lake Louise every Saturday evening for two summers. Rev Massey participated in radio broadcasts at Marshall's WHBK radio with other preachers from Cole's Cove Baptist Church.
On March 5, 2006, Reverend Massey was called to Stoney Fork Independent Missionary Baptist Church in Candler, NC, where he preached for two months. He was ordained on May 7, 2006 at Cole's Cove Independent Missionary Baptist Church and became the pastor of Stoney Fork Independent Missionary Baptist Church, where he is at the present time.