Pastor's Corner
May 2022
"Let's Go Up"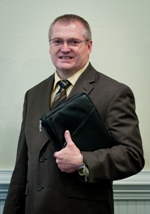 Numbers 13:30"And Caleb stilled the people before Moses, and said, Let us go up at once, and possess it; for we are well able to overcome it."
At the age of forty years old, Caleb went up with Joshua to spy the land of Canaan. He alone came back with a good report. Caleb holds on to God's promise even against tough opposition (Joshua 14:7-11). He stays faithful to the Lord, looking to receive God's promise. His faith pays off and we see him, at the age of eighty-five, receive his reward of his inheritance promised to him by God.
God is a rewarder of those who will continue in faith, looking for our glorious inheritance (Hebrews 11:6)that God has "reserved in heaven for you, who are kept by the power of God through faith unto salvation ready to be revealed in the last time" (1 Peter 1:4-5)
We, like Caleb, should continue to seek an inheritance from the Lord. Let's go up and try to take as many with us as we can.
Yours in Christ,
Pastor Jeff
---
Our Pastor, Jeff Massey
Reverend Jeff Massey was licensed to preach at Cole's Cove Independent Missionary Baptist Church in Weaverville, NC on July 1, 2001. He preached for local pastors and helped in revivals. He also interim pastored for churches without pastors in Madison and Buncombe counties. He also conducted outside services at Lake Louise every Saturday evening for two summers. Rev Massey participated in radio broadcasts at Marshall's WHBK radio with other preachers from Cole's Cove Baptist Church.
On March 5, 2006, Reverend Massey was called to Stoney Fork Independent Missionary Baptist Church in Candler, NC, where he preached for two months. He was ordained on May 7, 2006 at Cole's Cove Independent Missionary Baptist Church and became the pastor of Stoney Fork Independent Missionary Baptist Church, where he is at the present time.