Pastor's Corner
August 2020
"God Can Still Do Miracles"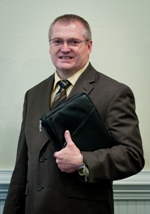 Isaiah 38:8
8) "Behold, I will bring again the shadow of the degrees, which is gone down in the sun dial of Ahaz, ten degrees backward, by which degrees it was gone down."
This is one of many miracles recorded in the Word of GOD. Science may say that it would destroy the world and be absolutely impossible to reverse the Sun's rotation in order to make the shadow go backward on the sundial of Ahaz. Such a claim overlooks the fact that if GOD were to remove HIS power, natural law itself would collapse.
GOD is superior to natural law. HE made the world and its laws. Miracles are not impossible when we remember the greatness of our GOD. Aren't you glad that the same GOD that did the miracles for Hezekiah, is the same miracle working GOD that keeps and loves you and me today? Just keep looking for yor miracle, GOD can perform it.
God bless and I hope everyone has a safe summer!
Yours in Christ,
Pastor Jeff
---
Our Pastor, Jeff Massey
Reverend Jeff Massey was licensed to preach at Cole's Cove Independent Missionary Baptist Church in Weaverville, NC on July 1, 2001. He preached for local pastors and helped in revivals. He also interim pastored for churches without pastors in Madison and Buncombe counties. He also conducted outside services at Lake Louise every Saturday evening for two summers. Rev Massey participated in radio broadcasts at Marshall's WHBK radio with other preachers from Cole's Cove Baptist Church.
On March 5, 2006, Reverend Massey was called to Stoney Fork Independent Missionary Baptist Church in Candler, NC, where he preached for two months. He was ordained on May 7, 2006 at Cole's Cove Independent Missionary Baptist Church and became the pastor of Stoney Fork Independent Missionary Baptist Church, where he is at the present time.