Pastor's Corner
September 2020
"What God is Looking For, Real Repentance"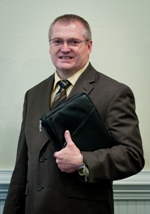 Hosea 5:15
15) "I will go and return to my place, till they acknowledge their offence, and seek my face: in their affliction they will seek me early."
Hosea 6:4
15) "O Ephraim, what shall I do unto thee? O Judah, what shall I do unto thee? For your goodness is as a morning cloud, and as the early dew it goeth away."
When Israel hears God's warning in chapter 5:15, they decide to make a confession of repentence (Hosea 6:1-3). But their confession is not sincere. They offer it to God in the hope that it will satisfy Him and bring a quick response. If God helps them, they figure their future blessings are secure.
God knows thatthe people's promise to return to Him is nothing more than words; their hearts have not changed. They have no covenant loyalty towards God, no love for Him and no desire to know Him. As long, as they are without these qualitites, all their sacrifices and offerings are useless.
The reality is this, Israel as well as we, ourselves, must realize that religious exercises will not save a rebellious people from judgement. If we hope to escape judgement, we must love Him and walk wih Him. We begin this walk when we come before Him with real repentance.
God bless and I hope everyone has a safe summer!
Yours in Christ,
Pastor Jeff
---
Our Pastor, Jeff Massey
Reverend Jeff Massey was licensed to preach at Cole's Cove Independent Missionary Baptist Church in Weaverville, NC on July 1, 2001. He preached for local pastors and helped in revivals. He also interim pastored for churches without pastors in Madison and Buncombe counties. He also conducted outside services at Lake Louise every Saturday evening for two summers. Rev Massey participated in radio broadcasts at Marshall's WHBK radio with other preachers from Cole's Cove Baptist Church.
On March 5, 2006, Reverend Massey was called to Stoney Fork Independent Missionary Baptist Church in Candler, NC, where he preached for two months. He was ordained on May 7, 2006 at Cole's Cove Independent Missionary Baptist Church and became the pastor of Stoney Fork Independent Missionary Baptist Church, where he is at the present time.