Pastor's Corner
August 2017
"The Need to Remember"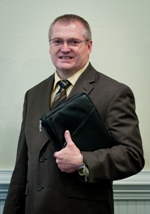 Hebrews 10:3
"But in those sacrifices there is a remembrance again made of sins every year."
"Remembrance" means recognition, calling to mind, acknowledgment. Each of the yearly sacrifices under the Law was like a promissory note that is renewed every year when the person in debt is unable to pay. The note has no real value in itself; nor did the sacrifice have any moral value in the sight of God. But in that note there is an acknowledgment of the debt from year to year. It was not possible that the blood of bulls and goats should take away sins, but each time a believing Israelite brought his sacrifices to the alter, he was "giving his note" to God. He acknowledged his responsibility for the same. This was all he could do; he could not pay. But the preincarnate Christ enclosed every one of the notes and in the fullness of time came prepared to settle in full for all.
We need to remember Jesus paid a debt he did not owe!
Yours in Christ,
Pastor Jeff
---
Our Pastor, Jeff Massey
Reverend Jeff Massey was licensed to preach at Cole's Cove Independent Missionary Baptist Church in Weaverville, NC on July 1, 2001. He preached for local pastors and helped in revivals. He also interim pastored for churches without pastors in Madison and Buncombe counties. He also conducted outside services at Lake Louise every Saturday evening for two summers. Rev Massey participated in radio broadcasts at Marshall's WHBK radio with other preachers from Cole's Cove Baptist Church.
On March 5, 2006, Reverend Massey was called to Stoney Fork Independent Missionary Baptist Church in Candler, NC, where he preached for two months. He was ordained on May 7, 2006 at Cole's Cove Independent Missionary Baptist Church and became the pastor of Stoney Fork Independent Missionary Baptist Church, where he is at the present time.