Pastor's Corner
October 2022
"Before It Is Too Late"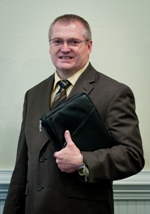 (Deuteronomy 16:13-15) "13) Thou shalt observe the feast of tabernacles seven days, after that thou hast gathered in thy corn and thy wine: 14) And thou shalt rejoice in thy feast, thou, and thy son, and thy daughter, and thy manservant, and thy maidservant, and the Levite, the stranger, and the fatherless, and the widow, that are within thy gates. 15) Seven days shall thou keep a solemn feast unto the Lord thy God in the place which the LORD shall choose: because the LORD thy God shall bless thee in all thine increase, and in all the works of thine hands, therefore thou shalt surely rejoice."
The Lord of the harvest gives us a commandment to observe every year. If God cannot and does not change, then we are to observe his commandments as Jesus himself also observed them (John 7). The Bible clearly tells us that we are to keep and observe the Feast year by year to come together to worship and praise God for his goodness to us (Zech 14:16-17). We are to remember the way he brought the children of Israel out of Egypt and how they dwelt in tents or booths in the wilderness, and how he supplied all their needs. Folks, we are truly blessed. Let us not forget to take time to offer the Lord praise and thanksgiving for all he has done for us.
Yours in Christ,
Pastor Jeff
---
Our Pastor, Jeff Massey
Reverend Jeff Massey was licensed to preach at Cole's Cove Independent Missionary Baptist Church in Weaverville, NC on July 1, 2001. He preached for local pastors and helped in revivals. He also interim pastored for churches without pastors in Madison and Buncombe counties. He also conducted outside services at Lake Louise every Saturday evening for two summers. Rev Massey participated in radio broadcasts at Marshall's WHBK radio with other preachers from Cole's Cove Baptist Church.
On March 5, 2006, Reverend Massey was called to Stoney Fork Independent Missionary Baptist Church in Candler, NC, where he preached for two months. He was ordained on May 7, 2006 at Cole's Cove Independent Missionary Baptist Church and became the pastor of Stoney Fork Independent Missionary Baptist Church, where he is at the present time.