Pastor's Corner
May 2021
"Liberty isn't Free"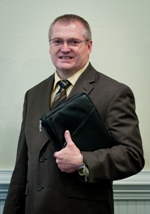 2 Romans 8:20-21
20)"For the creature was made subject to vanity, not willingly, but by reason of him who hath subjected the same in hope, 21) Because the creature itself also shall be delivered from the bondage of corruption into the glorious liberty of the children of God."
God made the creature subject to death, after man sinned, in the hope of glory. He does not plan evil or suffering, but He allows it to bring glory out of it. This is a mystery that not even Christians can understand, but it is plainly taught in the Bible and in our human experience. The glory, the gain, will come when man, the Man Christ Jesus, comes to rule the earth.
The liberty that we receive, we have, because it was offered to us through our Lord and Saviour, Jesus Christ. He is the hope we have now and for the future. A glorious liberty for the body, soul, and spirit is found in Him. This liberty was not free, but cost Jesus his life. It was paid for through His precious blood that He shed for us on Calvary. He did this to pay the sin debt of the whole world. This was a debt He did not owe.
When we think of liberty, let us think on the Liberator who offers us this "glorious Liberty" as children of God.
Yours in Christ,
Pastor Jeff
---
Our Pastor, Jeff Massey
Reverend Jeff Massey was licensed to preach at Cole's Cove Independent Missionary Baptist Church in Weaverville, NC on July 1, 2001. He preached for local pastors and helped in revivals. He also interim pastored for churches without pastors in Madison and Buncombe counties. He also conducted outside services at Lake Louise every Saturday evening for two summers. Rev Massey participated in radio broadcasts at Marshall's WHBK radio with other preachers from Cole's Cove Baptist Church.
On March 5, 2006, Reverend Massey was called to Stoney Fork Independent Missionary Baptist Church in Candler, NC, where he preached for two months. He was ordained on May 7, 2006 at Cole's Cove Independent Missionary Baptist Church and became the pastor of Stoney Fork Independent Missionary Baptist Church, where he is at the present time.