Pastor's Corner
July 2020
"When It's Home Coming Time"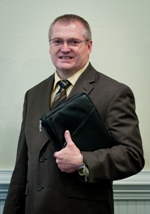 Amos 9:11-15
11) "In that day will I raise up the tabernacle of David that is fallen, and close up the breaches thereof; and I will raise up his ruins, and I will build it as in the days of old: 12) "That they may possess the remnant of Edom, and of all the heathen, which are called by name, saith the LORD that doeth this." 13) "Behold, the days come, saith the LORD, that the plowman shall overtake the reaper, and the treader of grapes him that soweth seed; and the mountains shall drop sweet wine, and all the hills shall melt."14) "And I will bring again the captivity of my people of Israel, and they shall build the waste cities, and inhabit them; and they shall plant vineyards, and drink wine thereof; they shall also make gardens, and eat the fruit of them. 15) "And I will plant them upon their land, and they shall no more be pulled up out of their land which I have given them, saith the LORD thy God."
Here we have the perfect words of the prophet point to a future day when the Jews will be restored to their own land. That will be a time of national peace and prosperity (vs. 13) and a time of long and settled dwelling in their land (vs. 14). The Glorious restoration of His chosen people will be effected by God's power (vs. 15), and the reason will be the same that caused Him to choose them in the first place, the same reason he chose you and me – because He loved them.
God bless and I hope everyone has a safe summer!
Yours in Christ,
Pastor Jeff
---
Our Pastor, Jeff Massey
Reverend Jeff Massey was licensed to preach at Cole's Cove Independent Missionary Baptist Church in Weaverville, NC on July 1, 2001. He preached for local pastors and helped in revivals. He also interim pastored for churches without pastors in Madison and Buncombe counties. He also conducted outside services at Lake Louise every Saturday evening for two summers. Rev Massey participated in radio broadcasts at Marshall's WHBK radio with other preachers from Cole's Cove Baptist Church.
On March 5, 2006, Reverend Massey was called to Stoney Fork Independent Missionary Baptist Church in Candler, NC, where he preached for two months. He was ordained on May 7, 2006 at Cole's Cove Independent Missionary Baptist Church and became the pastor of Stoney Fork Independent Missionary Baptist Church, where he is at the present time.