Pastor's Corner
October 2020
"Show Me a Sign"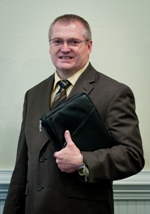 Mark 8:11
"And the Pharisees came forth, and began to question with him, seeking of Him a sign from heaven,…"
This was not the first time that the Pharisees tempted the Lord by asking him for a sign (Matt. 12:38; John 2:18 & 6:30). The Lord had performed wonderful miracles, but they wanted to see some signs from heaven such as manna that came down to feed the children of Israel in Moses' day, or fire and rain to come down from heaven like it did when Elijah prayed, or the sun to stand still like it did in Joshua's day. Even if the Lord had performed miracles like these, the Pharisees would still not have believed.
I wonder what it will take for you and me to believe. What will it take to convince our families, our friends and co-workers? Is our Lord and Saviour, Jesus Christ, and what he did on Calvary not enough? It is for me! I've seen all I need to see. Jesus said,"…(In the volume of the book it is written of me,)…" (Heb. 10:7).
God bless and I hope everyone has a safe summer!
Yours in Christ,
Pastor Jeff
---
Our Pastor, Jeff Massey
Reverend Jeff Massey was licensed to preach at Cole's Cove Independent Missionary Baptist Church in Weaverville, NC on July 1, 2001. He preached for local pastors and helped in revivals. He also interim pastored for churches without pastors in Madison and Buncombe counties. He also conducted outside services at Lake Louise every Saturday evening for two summers. Rev Massey participated in radio broadcasts at Marshall's WHBK radio with other preachers from Cole's Cove Baptist Church.
On March 5, 2006, Reverend Massey was called to Stoney Fork Independent Missionary Baptist Church in Candler, NC, where he preached for two months. He was ordained on May 7, 2006 at Cole's Cove Independent Missionary Baptist Church and became the pastor of Stoney Fork Independent Missionary Baptist Church, where he is at the present time.