Pastor's Corner
March 2023
"Spring!"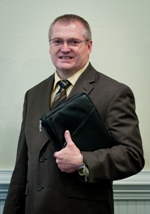 (Isaiah 61:11) "For as the earth bringeth forth her bud, and as the garden causeth the things that are sown in it to spring forth; so the Lord God will cause righteousness and praise to spring forth before all the nations."
Spring, what does the Bible say about spring? Spring speaks of life revived. This is a time of warming weather and nature coming back to life. As flowers bloom and animals are born, we are reminded of the innocence and beauty that exist in this world, and that there is new life all around us. As Christians, we are given new life and new mercies every day. Spring provides a wonderful reminder to us that we should be living a full life and leaving the old dead, past life behind. There is always hope during the coldest, darkest times of winter in our lives. Spring will come and new life will come forth! This is an awesome new life and new growth that comes from the Lord. This new life and new growth warms our hearts, even as the spring sun warms the earth.
Teresa and I wish each and every one the best this Spring.
Yours in Christ,
Pastor Jeff
---
Our Pastor, Jeff Massey
Reverend Jeff Massey was licensed to preach at Cole's Cove Independent Missionary Baptist Church in Weaverville, NC on July 1, 2001. He preached for local pastors and helped in revivals. He also interim pastored for churches without pastors in Madison and Buncombe counties. He also conducted outside services at Lake Louise every Saturday evening for two summers. Rev Massey participated in radio broadcasts at Marshall's WHBK radio with other preachers from Cole's Cove Baptist Church.
On March 5, 2006, Reverend Massey was called to Stoney Fork Independent Missionary Baptist Church in Candler, NC, where he preached for two months. He was ordained on May 7, 2006 at Cole's Cove Independent Missionary Baptist Church and became the pastor of Stoney Fork Independent Missionary Baptist Church, where he is at the present time.