Pastor's Corner
May 2021
"Confession"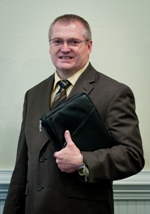 Psalms 51:1
"For I acknowledge my transgressions: and my sin is ever before me."
David, "a man after Gods own heart", confesses his sinfulness. There are a number of different words in the Bible that denote sin. Some are translated "sin", while others indicate "rebellion", "transgression", and so on. Clearly from the usage we can see the reference to sin. Here are some of the literal translations of some of the words found in the Hebrew and Greek portions of your Bible. Words that mean: "to miss the mark", "to turn from the right course", "to revolt against authority", "to distort the right", "to disobey", "to neglect", "to be guilty before God."
Sin can be defined as that inborn and natural attitude of mind and consequent activity in all people that causes them to be less holy and righteous than the perfection of God. We will need to conform to God's perfect law, but we are impure and guilty before Him (Isa. 64:6; Rom. 3:25). Only faith in Christ's blood will make us acceptable in God's sight (Rom. 6:22-23). Therefore, just as David asked God to be merciful and "blot out his sin" we need to do the same. Confession truly is good for our soul! Yours
Yours in Christ,
Pastor Jeff
---
Our Pastor, Jeff Massey
Reverend Jeff Massey was licensed to preach at Cole's Cove Independent Missionary Baptist Church in Weaverville, NC on July 1, 2001. He preached for local pastors and helped in revivals. He also interim pastored for churches without pastors in Madison and Buncombe counties. He also conducted outside services at Lake Louise every Saturday evening for two summers. Rev Massey participated in radio broadcasts at Marshall's WHBK radio with other preachers from Cole's Cove Baptist Church.
On March 5, 2006, Reverend Massey was called to Stoney Fork Independent Missionary Baptist Church in Candler, NC, where he preached for two months. He was ordained on May 7, 2006 at Cole's Cove Independent Missionary Baptist Church and became the pastor of Stoney Fork Independent Missionary Baptist Church, where he is at the present time.