Pastor's Corner
December 2020
"A New Beginning, Not a New Leaf"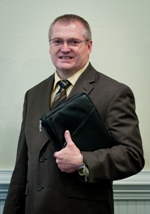 John 3:3
6)"Jesus answered and said unto him, Verily, verily, I say unto thee, Except a man be born again, he cannot see the kingdom of God."
7)"Of the increase of his government and peace there shall be no end, upon the throne of David and upon his kingdom, to order it, and to establish it with judgement and with justice from henceforth even for ever. The zeal of the LORD of host will perform this."
We have all been born once and have human fathers. This first birth gave us a human life and a sinful nature, handed down from Adam. Before we can be saved and know God, we must have what is similar to a second birth. God gives us a new nature- a new life that is like Him and wants to be pleasing to Him. Only people who have this new life are really Christians, although many try to be Christians by reforming themselves. They think they are Christians because they live honestly or because they go to church.
We must be careful in our distinction between Christians and the rest of Humanity. A Christian is one who believes in the Lord Jesus Christ as the Son of God and the only savior from sin. One who has such faith is born again by the Holy Spirit. The Lord made it clear that even those people who live most uprightly, like Nicodemus, who was a very religious Jew, must be born again. New birth comes when we take Jesus as our Savior, and it comes by the Word of God and the Spirit. The Holy Spirit leads us to believe the truths of the Bible and put our trust in the Lord Jesus Christ, our sin-bearing Savior. It's not a New Year's resolution or turning over a new leaf! It's believing on the Lord Jesus Christ as the Savior of the world. He is the one who died for our sins. He is our new beginning!
Teresa and I wish each, and every one a happy, safe and prosperous New Year.
Yours in Christ,
Pastor Jeff
---
Our Pastor, Jeff Massey
Reverend Jeff Massey was licensed to preach at Cole's Cove Independent Missionary Baptist Church in Weaverville, NC on July 1, 2001. He preached for local pastors and helped in revivals. He also interim pastored for churches without pastors in Madison and Buncombe counties. He also conducted outside services at Lake Louise every Saturday evening for two summers. Rev Massey participated in radio broadcasts at Marshall's WHBK radio with other preachers from Cole's Cove Baptist Church.
On March 5, 2006, Reverend Massey was called to Stoney Fork Independent Missionary Baptist Church in Candler, NC, where he preached for two months. He was ordained on May 7, 2006 at Cole's Cove Independent Missionary Baptist Church and became the pastor of Stoney Fork Independent Missionary Baptist Church, where he is at the present time.