Pastor's Corner
November 2020
"Being Thankful"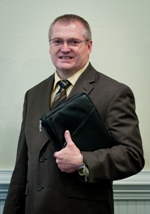 Colossians1:12
"Giving thanks unto the Father, which hath made us meet to be partakers of the inheritance of the saints in light:"
The Colossians, primarily Gentiles, were troubled over the question of whether they should worship angels and follow the old Jewish customs. Paul wrote this epistle to make it very clear that we should worship the Lord Jesus Christ and Him only, for He is above all. Let's look at some of the reasons we should worship Him and see why we should be thankful..
1. He has made us partakers of the inheritance of the saints; Colossians 1:12
2. He has delivered us from the power of darkness; Colossians 1:13
3. He has redeemed us and forgives us; Colossians 1:14
4. He gives us peace and reconciles all things; Colossians 1:20
5. He reconciles us to ourselves; Colossians 1:21
6. He makes us holy, unblameable, and unreproveable; Colossians 1:22
7. He gives us the riches and hope of glory; Colossians 1:27
8. He roots us, builds us up, and establishes our faith; Colossians 2:7
9. He makes us complete in him; Colossians 2:10
10. He has raised us with him; Colossians 2:12
11. He has helped us put on the new man, renewed in knowledge, created in his image; Colossians 3:10
12. He has forgiven us; Colossians 3:13
As we see all the things that Christ Jesus our Lord has done for us, and we realize that he is not finished, how could we not be thankful? So, children of God, let's be thankful, not just on Thanksgiving, but every day..
I hope each and everyone has a safe and blessed Thanksgiving.
Yours in Christ,
Pastor Jeff
---
Our Pastor, Jeff Massey
Reverend Jeff Massey was licensed to preach at Cole's Cove Independent Missionary Baptist Church in Weaverville, NC on July 1, 2001. He preached for local pastors and helped in revivals. He also interim pastored for churches without pastors in Madison and Buncombe counties. He also conducted outside services at Lake Louise every Saturday evening for two summers. Rev Massey participated in radio broadcasts at Marshall's WHBK radio with other preachers from Cole's Cove Baptist Church.
On March 5, 2006, Reverend Massey was called to Stoney Fork Independent Missionary Baptist Church in Candler, NC, where he preached for two months. He was ordained on May 7, 2006 at Cole's Cove Independent Missionary Baptist Church and became the pastor of Stoney Fork Independent Missionary Baptist Church, where he is at the present time.