Pastor's Corner
July 2022
"Liberty"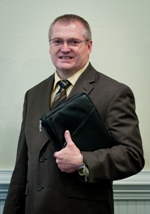 Galatians 5:1;13 1)"Stand fast therefore in the liberty wherewith Christ hath made us free, and be not entangled again with the yoke of bondage. 13)"For, brethren, ye have been called unto liberty; only use not liberty for an occasion to the flesh, but by love serve one another."
As we come together to celebrate our national independence this 4th of July, and the liberty we have as a nation, let us not forget who gave us such liberty. To keep the liberty, we have as a people, and more importantly as a nation, we must realize from whence the liberty comes. It comes not of man alone, but of men who have Christ Jesus as their Lord and Saviour. These are Men who have within them, through the Saviour, the power to "stand fast" for the principles that our nation was founded upon. "I will walk at liberty: for I seek thy precepts." Ps. 119:45.
The question would arise, how can mere man continue "steadfast" in liberty? Galatians 5 and verse twenty-five give us the answer, "If we live in the Spirit, let us also walk in the Spirit". Paul told the Corinthians, "Now the Lord is that Spirit; and where the Spirit of the Lord is, there is liberty." 2 Cor. 3:17. I guess you could say true liberty comes to those who choose to walk in the presence and the power of the Lord. We can all walk in liberty, but only with His help.
I hope everyone has a safe 4th of July. May God bless our nation!
Yours in Christ,
Pastor Jeff
July 10 Home coming 10:30; No Sunday School- Brother Ernie Cable and Family
July 10-- 6:00 p.m.- Start of WNC camp meeting
July 11->15-- Camp meeting 7:00 pm Nightly- Wednesday night service moved to camp meeting
---
Our Pastor, Jeff Massey
Reverend Jeff Massey was licensed to preach at Cole's Cove Independent Missionary Baptist Church in Weaverville, NC on July 1, 2001. He preached for local pastors and helped in revivals. He also interim pastored for churches without pastors in Madison and Buncombe counties. He also conducted outside services at Lake Louise every Saturday evening for two summers. Rev Massey participated in radio broadcasts at Marshall's WHBK radio with other preachers from Cole's Cove Baptist Church.
On March 5, 2006, Reverend Massey was called to Stoney Fork Independent Missionary Baptist Church in Candler, NC, where he preached for two months. He was ordained on May 7, 2006 at Cole's Cove Independent Missionary Baptist Church and became the pastor of Stoney Fork Independent Missionary Baptist Church, where he is at the present time.